Your pet is an integral part of your family. They provide a companion and friend for your children to play with. They comfort you when you're sad and rejoice with you when you're happy.
Just as we should care about the health and wellness of our human family members, so should we about the furry members who bring so much love and joy to our lives.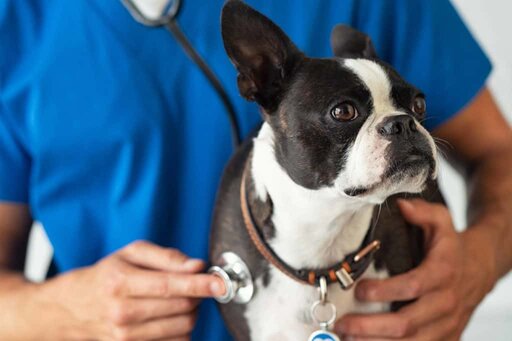 If you have taken your dog to the vet, you know that a routine visit can easily cost $100 or more. And should an injury, illness, or any other medical emergency occur, you may be looking at thousands of dollars in vet bills.
There are numerous ways to help you pay these costs so that your pet can get the best care possible.
5 Ways to Pay for Your Pet's Medical Bills
Dedicated Savings Account
Charitable Organizations
Pet Insurance
Talk To Your Vet About Financing
Pet Credit Cards
Humans have an advantage over our pets when it comes to healthcare. This is the Hippocratic Oath, which allows us to get life-saving treatment immediately, whether or not we can pay for it upfront.
We still get billed for that treatment or surgery, but we get the medical treatment we need regardless if we can pay for it.
Often pet owners will be faced with the heartbreaking decision of whether or not to get the surgery that may save the life of our dog. If we can't afford it, what do we do?

Dedicated Savings Account (Pet Emergency Fund)
Instead of getting a pet policy through an insurance company, why not try a form of self-insurance?
You know how it's recommended for people to build up an emergency fund in your savings account? This way, when something happens unexpectedly, you have a cushion of cash with which to pay.
You can do the same sort of thing but for pet medical bills.
For myself, Bella, our Boston Terrier costs us about $150 per year with her routine medical check-up visit. This year the cost was $300 for blood work that needed to be done. If you start adding something to your savings account in a range of $50.00 per month you will soon have saved up enough money to "self-insure" your pet.
Charitable Organizations
If you really find yourself in a bind regarding your pet's healthcare, you don't have to worry. There are numerous charity organizations designed to help owners pay for the healthcare of their beloved pet.
Take a look at the ones I've listed for you below. If you need help beyond what you already have, feel free to contact any one of these organizations for assistance.
Red Rover
Red Rover offers grants to pet owners if you need financial assistance for a life-saving treatment or procedure that your pet needs. They also help pets and families who are in abusive situations get to a safe place.
Grants from Red Rover for urgent care needs tend to fall around the amount of $200.00 and is designed to help bridge the gap that keeps your pet from getting the necessary care.
They do have a few guidelines that must be met to approve your application.
Red Rover Guidelines
Only one animal needing assistance.
You must have the diagnosis and treatment plan before applying.
Pets must be spayed or neutered.
Treatment must be underway or about to start. Red Rover will not pay for completed treatment.
Apply through their website at Red Rover Grant.

The Pet Fund
The Pet Fund is a 501c 3 nonprofit organization that helps owners pay for much needed veterinary care.
Unlike Red Rover, The Pet Fund doesn't help with urgent situations. They will only help with non-basic, non-urgent care. This type of care covers treatment for cancer, heart disease, diabetes, or any other chronic conditions your pet may have.
When applying for assistance, you will need to provide:
Proof of income
Written cost estimate
The treatment plan from the veterinarian
Your vet's practicing credentials (name, address, medical license number)
Keep in mind that Pet Fund has a rather long waitlist for assistance right now, so it may be a while before you get a response to your application.
Apply online at, The Pet Fund Application.
Harley's Hope Foundation
Harley's Hope was created in 2010 after David and Cynthia Bullock lost their dog Harley to cancer. Realizing that not many people can financially provide necessary treatments for their pets, they sat up this foundation in Harley's name.
The services they provide are major or emergency veterinary care, behavioral training, or specialty training. They also have a separate fund that specifically helps provide treatment for medical service and assistance dogs.
They also have a Special Services Project. This project helps elderly or disabled humans with pets in need, as well as elderly or disabled animals who are at risk for significant health conditions.
Finally, the foundation provides short-term foster care for animals whose owners can not care for them due to an emergency situation.
Apply online for assistance at Harley's Hope Foundation Application.
The Onyx & Breezy Foundation
Similar to Harley's Hope, Onyx & Breezy was created in the memory of the owner's Labrador retrievers who both passed away in 2004.
Endorsed by various celebrities for the help they provide for pets, this has become a well known and popular foundation over the years for veterinary, financial assistance.
To be eligible for an emergency assistance grant:
Provide your tax return
An estimate of cost for the treatment
The diagnosis, prognosis, and treatment plan
CareCredit status (denial or approval, and balance if approved)
Apply online at Onyx & Breezy Foundation Application.
PAWS
PAWS is an organization that does so much more than just help pets in need. They work to connect animals with families, as well as care for injured and orphaned wildlife.
They also strive to educate others about how to make the world a better place for humans and animals alike to live in.
However, even with all of the services they provide, emergency financial assistance for medical treatment is not one of them. Still, they have a long list on their website with links to organizations that do. Check out PAWS resources on getting help financially with your dogs needs here, "PAWS Help With Veterinary Bills."
Talk To Your Vet About Financing
Veterinarians love animals, and that is the main reason they get into this field of work. They work to provide your pets with the best healthcare they can, and they understand the bond between you and your pet fully.
Many veterinarians are willing to set up payment plans should your furry loved one need a surgery or treatment, and you need help paying for it. All you have to do is ask your vet if they will let you make payments.
However, according to HuffPost, the amount of veterinarians offering payment plans is beginning to decline due to many people not following through on their promise to repay.
Vet In-House Financing
Some vets offer a form of in-house insurance or wellness plans. For example, if you bring a new puppy into your home, they'll offer a "package" that you pay for in advance. This package will cover all of your new pet's vet visits for the first year. Some larger chains may also have similar plans to provide vaccines and basic needs.
You will need to call your prospective veterinarian to see if they offer this in-house financing service.
Not An Option
If your vet is one of those that have stopped offering financing, you may have to look into insurance, pet credit cards, or a charity organization for help. Keep in mind the insurance must be bought before the service occurs or is known.

Pet Insurance
One of the best ways to plan for pet expenses and get help paying for them is through pet insurance.
There are many pet insurance companies you can go with, and the policies range from covering only emergency medical issues to covering nearly everything.
Pet Insurance Companies with links to their site:
Pet Assure
I personally like Pet Assure. It is technically not pet insurance but more of a discount club. The reason I like it so much is that it is simple to understand. When you sign up for the program, you save 25% on pretty much everything related to vet bills needed to take care of your dog.
Plus, this company charges a flat fee no matter the dog's age, breed, or medical conditions. For a single dog, it is $11.95 per month. If you pay this amount annually, you get a discount to $99 per year.
Nationwide
Nationwide is an insurance company that not only provides human insurance like home, auto, and life but pet insurance as well. For over four decades, Nationwide has been offering pet lovers insurance on their fur babies.
Like regular insurance for humans, Nationwide's pet insurance costs are influenced by the breed of the dog as well as the dog's age. To get a quote, you will be asked several different questions such as your zip code, dog's sex, spayed, or neutered. However, the only items that affect the price of the quote are the breed and age of the dog.
Unlike Pet Assure, there are several plans to choose from as well as different coverages, payment plans, and reimbursements for each.
Deciding On The Right Insurance Company And Plan
You will need to decide for yourself which insurance company and plan is right for you. Each pet owners needs and financial situation is different.

Pet Credit Cards
Even with pet insurance, you're going to find yourself faced with hefty fees and pet medical bills. How do you pay for these if you don't have the money?
Many credit card companies have a special card you can apply for just for the sole purpose of buying pet supplies and paying for veterinary expenses. If you have good credit, you should easily be able to get approved for one of these.
Some of the top pet credit cards to get are here…
This is just like the human version of CareCredit. These Pet CareCredit cards allow you to receive interest-free financing on medical-related purchases of $200.00 or more. The period of interest-free funding various.
The card issuer believes pets to be a part of the family, so they extend benefits to the pets. Unfortunately, this can only be used at a veterinarian that accepts CareCredit.
Earn rewards for shopping at pet stores or veterinary offices, as well as on gas, groceries, or anywhere Visa is accepted.
Provides financing options, rewards on qualifying purchases, and no annual fee.
Designed to allow you to set up payment plans for pet-related medical expenses. They also offer deferred interest for the first 6 to 12 months of use and can easily be used to complement any pet insurance you have. Like CareCredit, however, this can only be used with veterinarians who accept the card.
As you start comparing credit card plans, be sure to do your research and decide which pet credit card will be best for you to have. I personally like the CareCredit Healthcare card because it is solely for pet-related medical expenses with interest-free financing options.

Final thoughts…
Pet-related medical bills can be expensive. This expense can lead to fear, worry, and anxiety for you. If you follow or look into the five ways to pay for medical costs outlined in this article, you should find some peace of mind.
I want to emphasize the first point in the article, creating a separate dog emergency fund is the best way to pay for your pets emergency medical needs. This fund will give you the confidence and money needed, at a time when you will be anxious and scared for your animal. Plus, I do not want to see you get in debt with pet medical bills, especially on a credit card with high interest.