Are you thinking about becoming a Boston Terrier foster parent?
In this interview with the Tara Abston, we discuss the process as well as what you can expect when fostering this wonderful dog breed.
Tara is the Vice President of the Southern Cross Boston Terrier Rescue located in Jackson, Tennessee.
Even though you may not live in or around this rescue, you can use this interview to help give you some insight on what to expect when fostering at a different rescue.
How To Become & What To Expect When Fostering Boston Terriers
I recently was able to sit down with Tara Abston to go over the process of how to become as well as what to expect when fostering dogs. This article is in the same format as the interview.
If you would like to listen to the full interview, here is a YouTube video you can listen to at any time.
Exclusive Interview With The Southern Cross Boston Terrier Rescue
What is it like fostering at the Southern Cross Boston Terrier Rescue?
Tara Abston
Fostering is my favorite thing to talk about, and it's how I first got involved with rescue. Obviously, as you know, we can't do what we do with our foster parents. So we love them.
When it comes to foster learning, the first thing I always say to people who are asking about fostering or thinking about it is that "Please know that we're here to help you."
We have our Facebook group. We have an email you can contact. We give out our personal phone numbers so that we're available.
As far as going over the responsibilities of, "What do I do as a foster parent?" It's your responsibility to provide a home, a bed of some sort… and of course, love for that dog.
I always say, "You provide those things, and we provide the rest."
What would be the responsibilities of a Boston Terrier foster parent?
Tara Abston
The responsibilities for our foster parents would be taking the dog to vet visits, of course, which we always pay for.
Giving them any kind of medications that they may need.
Socializing them to new environments and expose them to things that they may find in their new adoptive home, such as other dogs, pets, children maybe, different people, social settings.
Now, all those may not work out for a dog. But as a foster parent, it's your responsibility to try to expose them to those things just to find out what they're best suited for.
In general, the foster parent is getting them ready for their new home.
How long do foster dog parents foster these Boston Terriers?
Tara Abston
As a foster parent, on average, you may be keeping that dog for four to six weeks. That's our average foster time for our particular rescue.
With that being said, you may end up keeping that dog for a few months.
Or we have fosters that are interested in a forever foster home. They keep that dog for the rest of its life.
Those are for dogs that have medical issues or maybe terminally ill, things that may make them undesirable for people to adopt.
What is the process of applying to become a Boston Terrier foster parent?
Tara Abston
Now, as far as applying to adopt or to be a foster parent, that process involves going to our website, which is southerncrossbtr.com.
You would fill out an application. It's relatively the same application as our adoption application, a little bit different.
In the application, we want to find out what your limits and your comfort level is as far as being a foster.
For someone like me who had never done it before, I was reserved, had a lot of questions, was kind of unsure.
There are certain types of dogs, and we don't want to overwhelm you.
The application is just to find out what you may be comfortable with, what would be the best dog for us to start you out with.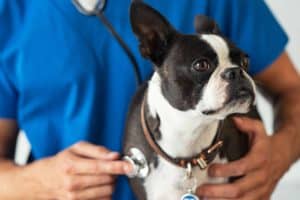 Next step after the application…
After the application, comes getting veterinarian references.
If you currently have a dog, we would check your current veterinarian, make sure you are keeping your current dog healthy.
If you don't currently have a dog, then we would ask for family, friends, colleagues, someone who could attest for you if you don't have a vet.
The next step after the references are completed…
And then after the vet references, comes a home visit by one of our volunteers. This is just to make sure that your home is safe for a dog to go into.
If all that checks out, then you should be approved. And at that point, you just basically wait for a rescued Boston to come into the area that you live.
What if there is no Boston who needs to be rescued in my area?
We do transport the dog to you or meet you so that you're able to pick up a foster.
That is more in-depth than I anticipated.
Tara Abston
Right. It seems a little daunting at first, especially from the viewpoint of a new person trying to come in to foster.
But the process on your end is really simple. You're just filling out the application, and we're taking care of the rest.
But of course, we just want to make sure that we're placing our fosters who may be vulnerable in the best environment possible for them.
Do you have an ideal candidate for a Boston Terrier foster family?
Tara Abston
We are almost open to anyone because we have all types of different adoptive parents.
Senior citizens that want to adopt a dog who may not have young children in the home.
We have younger people who do have young children in the home.
Single moms that want to adopt a dog.
Also, people who aren't married and may be living alone.
We have a wide variety of adopters. Of course, we want a variety of foster homes as well.
There's no ideal foster parent that we are looking for. We just want somebody that's able to provide those things that I talked about before.
Most of our fosters are just ordinary people like you and I that love Boston Terriers and just want to help out.
Final thoughts…
Fostering a Boston Terrier is one of the kindest and most generous things you can do with your time.
If you would like to contact Tara or the Southern Cross Boston Terrier, Rescue, their contact information is listed below.
Southern Cross Boston Terrier Rescue
Join The Boston Terrier Community!
Join thousands of Boston Terrier Owners in the Boston Terrier Society Facebook Group.
In the group, we share photos, thoughts, and stories. As well as have contests with prizes and more!
This is a fun and friendly group. Feel free to pose any question you have about your Boston Terrier.
Other Articles You May Like To Read