When it comes to caring for your Boston Terrier, food is an essential part of keeping her healthy.
Choosing a dog food is hard enough as it is, but feeding your Boston Terrier the ideal amount of food can also be tricky at first.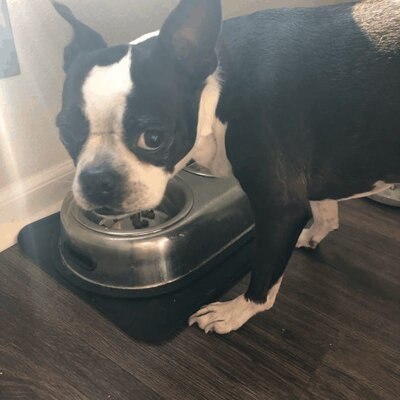 Knowing how much to feed your Boston at every stage of life is essential.
Boston Terrier Nutrition Guide: Owner Recommendations & More
How Much Does A Boston Terrier Need To Eat?
There are many variables as to how much a Boston Terrier should eat. But on average if your Boston weighs 10 pounds, you can give them ¾ cup to 1 cup each day. If your Boston is closer to 20 pounds, you can feed them 1 ¼ to 1 ¾ cups per day.
What Is The Serving Size For A Boston Terrier?
There are a few factors that go into the serving size for your Boston Terrier.
| | |
| --- | --- |
| Weight | Food Serving Range |
| 5-10 lbs | ½ to ⅝ cup per day |
| 10-15 lbs | ¾ to 1 cup per day |
| 15-25 lbs | 1 ¼ to 1 ¾ cup per day |
First of all, their weight significantly affects how much they should eat. Boston Terriers should receive between 1 to 1 3/4 cups each day.
If your Boston Terrier is very light, closer to 10 pounds, then you can give her the smaller serving option closer to 1 cup.
However, if your Boston Terrier's weight is closer to 25 pounds, then you will likely want to give her a much larger serving size.
My Boston Bella
Bella, my Boston, gets two ½ cups of food per day. We have Sofia, my daughter, give Bella a scoop in the morning and another at 5:00 pm.
Calorie Calculator For Dogs
If you want to get a more precise idea of how much your Boston Terrier should be eating use this handy calculator by the Pet Nutrition Alliance, click on the image to go to the web page.
Once you determine the calorie needs of your Boston Terrier check the back of a given dog food package to see how many calories are in each serving.
Now you'll know exactly what to feed your Boston.
Factors Affecting The Calorie Needs Of Your Boston Terrier
Activity Level
Foods You're Feeding Them
Spayed or Neutered
How Active Is Your Boston?
The activity level of your Boston Terrier greatly impacts their calorie needs. The correlation of high activity and higher food needs is no different than us humans.
If your Boston Terrier is small but extremely active, then they should receive a larger serving size since their extra energy will burn off the extra food given.
However, if they weigh more, but are very inactive, then you may need to decrease their serving size to keep them at a healthy weight.
Need help potty training your Boston Terrier? Learn how to potty train, stop puppy biting, and more with this affordable all-inclusive puppy training school from Dr. Dunbar's Academy. Click here to correct all the normal behavior issues in your Boston puppy before they start – Puppy Training Academy.
What Type Of Food Are You Feeding Your Boston?
Different dog foods have different recommended servings, be sure to check the bag to see how much you should be serving your pet.

Most dog foods will recommend 1 ½ cups per day or less for dogs within the weight range of a Boston Terrier.
However, this could vary based on your specific dog or the dog food selected.
How Being Spayed Or Neutered Affects A Boston Terriers Calorie Needs
In a research article from the Journal of the American Veterinary Medical Association, dogs who have been spayed or neutered have a greater risk of becoming overweight than sexually intact dogs.
This has something to do with the hormones after being spayed or neutered.
Be sure to track your Boston Terriers weights before being spayed or neutered as well as afterward for the first two years. Dogs had the highest risk of becoming overweight in the first two years.
If your Boston becomes overweight simply reduce the amount of food you're giving them until they reach their ideal weight.
What Should I Feed My Boston Terrier?
Boston Terriers are a small dog breed that typically weighs anywhere from 10 to 25 pounds. They are also usually very active in comparison to other small breeds.
This activity should be taken into account when selecting a dog food brand and deciding how much to serve your Boston Terrier each day.

Ideally, the food you select for your Boston Terrier, and for any breed of dog, should be a formula with high-quality ingredients. You should avoid any processed foods or foods with ingredients that will not benefit your dog.
Make sure you are selecting food that has real protein products and no byproducts or processed materials.

Also, if your Boston Terrier has allergies to any type of foods, such as grains or chicken, checking the label before the purchase is crucial. There are plenty of limited ingredient formulas that are free of these common allergies.
However, you should always make sure that you are double checking the ingredients to ensure you are feeding your Boston the best food possible. Some recommended brands for Boston Terriers are Fromm, Merrick, and Nulo.
What These Boston Terrier Owners Feed Their Boston
In the Boston Terrier Society Facebook Group I asked the thousand-plus members what they fed their Boston Terrier and here is what they said.
Hill's Science Diet Small Bites
Blue Buffalo Salmon
Purina Dog Chow – Chicken
Beneful Weight Smart
Whole-Earth Farms Salmon
Purina Pro-Plan
Rachel Ray's Dog Food Brand
What Do You Feed Your Boston Terrier?
Before we start talking about the food types, what do you feed or plan on feeding your Boston?
Wet, Dry, or Raw Dog Food?
Many dog owners assume dry dog food is the only option for their Boston Terrier.
However, there are a few different food types you can choose for your pet.
Dry Or Kibble Dog Food
Of course, dry dog food is the most common because it is the most convenient option, and it is easy to measure out for your dog.
Dry dog food is also generally cheaper than wet food, and it has more varieties available.
Still, not all Boston Terriers will be interested in this type of food.

Wet Dog Food
If your Boston Terrier is uninterested in dry dog food, then you should give wet food a try.
Many Boston Terriers prefer wet food because it has more flavor than dry food does.
However, many owners dislike this because it means that the food has a stronger smell, and it can be messier.
If your Boston Terrier prefers wet food, but you would instead give her dry food, compromise. I know a number of Boston owners who do this for their dogs.
Mix a little wet food into her dry food for some meals. Mixing wet and dry dog food will help to make meals less expensive and easy to manage while still giving your dog the delicious taste she enjoys.

Raw Dog Food
If you don't think that wet or dry dog food is a good option for your Boston Terrier, you can also give raw dog food a try.

Raw dog foods emphasize raw, natural ingredients in their diets, such as fresh meat, bones, fruits, and vegetables.
This food can be purchased frozen or freeze-dried at certain pet stores, or you can even make the food yourself using natural ingredients.
Raw is a lesser-known dog food option, but it is one that many owners are leaning toward.
However, whichever type of food you select should be based on being healthy and enjoyable for your Boston Terrier.
What Happens If Your Boston Becomes Over Or Underweight?
If you are giving your Boston Terrier an amount based on their weight, but they become overweight or underweight because of it, then you will want to adjust their serving sizes.

Is your Boston overweight? Try feeding her smaller portions during each meal until she reaches a healthy weight again.

Do you have an underweight Boston? It is okay to increase her servings to help her gain some extra weight. If you need to adjust the servings above or below the recommended range, then that is okay.
1 to 1 3/4 cups per day is just a general suggestion for Boston Terriers. It can vary based on your specific Boston Terrier and what their needs are.
Feeding a Boston Terrier Puppy vs. an Adult Boston Terrier
Boston Terrier puppies are of course smaller and often more active than older dogs, so they require a slightly different diet as they're growing.
Puppies should be fed at least 3 to 4 times each day to ensure that they grow big and strong.
However, once they grow up, they will require fewer meals and smaller portions each day. Adult Boston Terriers typically only need two meals per day.
In terms of feeding, a Boston Terrier is considered a puppy until about a year old. However, you should start reducing the amount of food you give them at about six months old.
If you are giving your Boston Terrier a puppy-specific formula, you can start transitioning her to an adult dog food at around nine months old.
What These Boston Terrier Owners Fed Their Boston Terrier As A Puppy
In the Boston Terrier Society Facebook group I asked the thousand-plus members what they fed their Boston Terrier as a puppy and here is what they said.
The overwhelming response from these Boston Terrier Owners was to use a Purina Product. There were a number of Purina products mentioned here are a few of them on Amazon.
What is the Serving Size for a Boston Terrier Puppy?
Feeding a Boston Terrier puppy greatly depends on how much they weigh.
In the chart above you can see how the amount of food you feed a puppy is more than what you would feed an adult of the same size.
It is important to remember that these ranges are just a general rule of thumb, so they may vary for each puppy. Plus, you will need to keep adjusting their serving sizes as they grow.
Be sure to read the recommended feeding guideline listed on the dog food you purchase.

Formula Feeding
If you are feeding your Boston Terrier puppy a puppy formula, then the bag should have a feeding chart specifically for puppies of different ages.
Puppy formulas differ from adult dog foods because they contain more proteins and other essential ingredients that puppies need to grow big and strong.
Therefore, how much you serve your Boston Terrier puppy each day may be different based on what kind of food you are giving them.
Boston Terriers With Sensitive Stomachs Or Allergies: What To Do
While any dog can have allergies and sensitivities, Boston Terriers have some that are specific to their breed. They are susceptible to atopic dermatitis, which is a skin condition caused by certain allergies.
This condition can be spotted if you see any red, flaking skin on your Boston's body that they constantly try to itch. Common allergies that could cause this are corn, gluten, and other grains, so be sure to purchase dog food that does not include these ingredients.

My Boston Terrier Bella And Her Sensitive Stomach
For Bella I use Blue Buffalo Salmon, this is grain-free dog food. She developed an allergy to grain around the age of five. It took months before we realized it was an allergy to the grain.
If your dog all of sudden starts losing hair or their belly becomes red, call your veterinarian.
Check out my article explaining why this is a great dog food for her and possibly your Boston, Bella's Dog Food of Choice.

Limited Ingredient Dog Foods
Even if Boston Terriers do not have this skin condition, it is still common for them to have sensitive stomachs.
Any food allergies or intolerances they come across could cause them to be extra gassy, along with some possible vomiting or diarrhea. To avoid these reactions, you should lean toward dog foods that are limited ingredient formulas.

A limited ingredient formula typically means that the food only includes ingredients that are essential to dogs, and none of the common allergies are included.
Even if you don't know of any allergies that your Boston Terrier has, a limited ingredient formula might still be a good idea to ensure they do not have any reactions in the future.
Check out different limited ingredient reviews and pricing on Amazon. You will be surprised the cost isn't as bad as you would think. Here are options for Limited Ingredient Dog Food.
Want more information about what foods to eat when your dog has allergies? Check out this article I wrote, Dog Allergy Guide: Symptoms & Treatments; Natural Remedies.
Final thoughts…
While every Boston Terrier is different, it may take time to learn your pet's habits and preferences. Therefore, you can start with the recommended serving sizes and adjust them as you discover your Boston Terrier's feeding habits better.
Food is a massive part of your dog's health, so be sure to select a dog food and serving size that is suitable for your Boston Terrier.
Here Are Some Other Articles You May Like To Read
References