Are you looking to buy a Boston Terrier puppy, but worried you may lose money?
You do have a legitimate concern when you think to yourself, is it safe to buy puppies online.
I know when I do a quick Google Search, "Boston Terrier Puppies," I see a number of questionable websites.
Here are some simple steps to follow to avoid losing money and knowing if a breeder is legit when you buy your next Boston Terrier puppy.
Tips To Avoid Boston Terrier Puppy Scams
What this article is not. This is not an article about finding a reputable Boston Terrier breeder. I only want to cover how to avoid being scammed. Finding a reputable breeder is another concern.
There are Boston Terrier breeder websites out there in the world that look legitimate, but they want to steal your money.
I want to help you do a little reflection before you get too excited and put a deposit down on a Boston puppy that does not exist.
Use these tips as a guide rather than a concrete absolute that a breeder must adhere to.
Looking for a Boston Terrier puppy but want to avoid scams? Learn how to find a reputable Boston Terrier breeder at the right price, and learn about the health issues to watch for in my new course!
Click here to learn more about the course that can save you grief and money when finding your first Boston puppy…https://bit.ly/YourFirstBostonCourseFAQ
1. Avoid A Generic Website
If the website has nothing but stock photos, I would choose a different breeder.
Every Boston breeder I have spoken to is proud of their puppies, and they treat them like family.
If you didn't find one photo of the breeder with their Boston Terrier or at least a picture that is not staged, I personally would steer away from that website.
Examples of stock Boston Terrier puppy photos
Here are some examples of stock Boston Terrier Photos below. Stock photos usually have these signs.
The Boston puppy looks much older than 8 to 12 weeks.
No natural-looking puppy photos of the litter.
Never a photo looking as though it was taken in the breeders home.
Now, there are some great breeders who use professional photos of their Boston's.
However, if you go to their breeder's website they will have pictures of themselves with their Boston.
You need to use all the tips listed in this article to decide if the website you're looking at is legitimate.
Ask the breeder for a picture.
Yes, there are legitimate websites that have generic-looking photos.
If you are really interested in the puppy and want it. Do not be afraid to ask the breeder for a photo of the Boston puppy right now.
Any breeder should be able to snap a photo of their Boston on their phone and text it to you. For even more reassurance, ask the breeder to do something specific in the picture.
Examples of asking the breeder to do something specific in the photo:
Can you hold the puppy in your hand and snap a photo?
Please take a photo of the Boston puppy with its mother.
Can you take a picture of the Boston puppy eating?
Any fraudulent website would not be able to provide photos like the ones mentioned above.
2. Ask Others, "Where did you get your puppy?"
This is simple. If you know someone who already has a Boston Terrier, ask them who their breeder was.
Even if the breeder your friend refers you to does not have puppies now, chances are that breeder knows other legitimate breeders.
3. Talk With The Breeder Over The Phone
In my opinion, if you can talk to the breeder over the phone, the chances of them being legitimate are higher.
Yes, most breeders would prefer to text as well as email.
However, before I personally would give a deposit, I would want to talk to them over the phone.
This would give me some added reassurance.
What to talk about when on the phone with the breeder?
If the breeder has already answered all your questions via text or email. No worries. You can still have the breeder call you for better clarification on certain aspects.
Just tell them you are really excited about getting a new puppy. You want to make sure you have everything right for your new Boston Terrier puppy.
Questions You Can Ask The Breeder On The Phone
Is there anything you would recommend I have before I bring my Boston puppy home?
What is the best way to transition the puppy to a different dog food type?
Do they have any tips for picking a veterinarian?
How should I handle potty training?
I want to verify the payment method or dates.
4. Buy Your Boston Terrier Puppy Local
If you buy your Boston Terrier puppy local, you will see the puppy in person before you buy them or give a deposit.
This is probably one of the best ways to prevent your money from being stolen. With buying local, you know where the breeder lives.
If you have any issues, you know exactly where to go.
5. Visit The Home Of The Boston Terrier Puppy
Even if you are buying your Boston Terrier out of state, you will want to pick your puppy up your self.
This allows you to meet the Boston's parents as well as the breeder. You can see first hand how your new puppy was raised.
Plus, you now know when you hand over the final payment, you are getting a puppy.
Read Eric's story of how he flew from Boston, Massachusetts, to Florida to pick up his two Boston Terriers, Frank, and Bruno.
What if you are worried about losing money during the deposit stage?
If you are worried about losing a deposit, make sure you follow all the other steps before you give money for the deposit.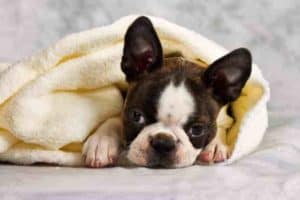 6. Avoid Craigslist
Market websites like Craigslist give scam artists a platform to trick people out of their money.
Yes, you can find breeders there, but try to do searches on other sites first.
Try these two websites first:
7. Find A Dog Breed Club In Your Area
One of the best ways to find reputable Boston Terrier breeders is to start with the Boston Terrier Club of America.
These breeders adhere to the practices, ethics, and standards of the club.
Also, there are several other small Boston Terrier clubs you can check out. These clubs should be able to help point you in the right direction in finding a legitimate and reputable Boston Terrier breeder.
Check out this complete list of Boston Terrier Clubs throughout the United States.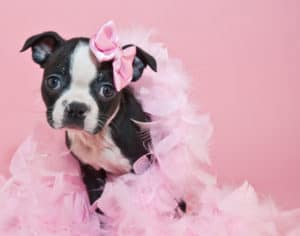 8. Do A Google Search
Yes, this really can work. If you find a website selling Boston Terrier puppies and you are unsure of it, GOOGLE IT.
If you Google the name of the website with scam next to it, you'll be able to find out what others have said about it when associated with the word scam.
Another excellent website for spotting pet scams as well as reporting pet scams is, PetScams.Com.
9. The Deal Seems Too Good To Be True
If you find a Boston Terrier and its a deal of a lifetime chances are it is a fraud.
What would be a deal of a lifetime?
Say you live in California, and you find a cute Boston Terrier in North Carolina. If the breeder is willing to sell you the Boston for $550 and provide free shipping…that is a deal that smells of fraud.
I would avoid any website offering FREE SHIPPING. These are Boston's, not a toaster you bought on Amazon.
You will need to use your gut when deciding if a deal sounds too good to be true.
10. Seller Is Trying To Rush You
If you are being rushed to send a deposit, I would walk away from this deal.
While Boston breeders do have limited supply, if you feel you are being rushed to make a deposit, I would choose another breeder.
Most reputable breeders have a list of people who are ready to buy their Boston's. No reputable breeder I know will be trying to rush you on sending in your deposit.
That doesn't mean the breeder can't inform you with a, "Hey, I have other people wanting to buy these puppies, if you don't put a deposit down I can not hold one for you." This is perfectly acceptable.
To me, trying to rush you on a deposit would be multiple communications on sending in the deposit fast before the puppies are sold.
Final thoughts…
Boston Terriers are a fantastic dog breed. Unfortunately, when something is popular like these lovable pooches, fraudsters appear.
Be sure to trust your gut in every situation and follow these simple tips to help you on your journey to getting a Boston.
Other Articles You Should Read