Are you looking for the best dog bed for your Boston Terrier? Confused with the sheer variety available in dog beds and don't know which one to buy?
Then this guide has you covered! I have bought several beds for Bella, my Boston Terrier, over the years, and here are some of the best beds we have used, plus ones I know a Boston would enjoy! Plus, I have surveyed hundreds of Boston parents to get a better idea of the perfect bed you'll want for your Boston.
In this guide, I have picked nine top-rated best dog beds for Boston Terriers along with their pros and cons to help you make an informed choice.
The Best Dog Beds For Boston Terriers
Just in case you are in a hurry, here is a quick summary of the nine best Boston Terrier dog beds.
9 Of The Best Dog Beds For Bostons
Best Friends by Sherri is the bed Bella, my Boston Terrier is currently using. Bella is 13 years old and is now one of those elderly dogs with joint pain.
She loves this bed because it comes with a 'hooded blanket' that keeps her warm and cozy. Like most Bostons, Bella loves to burrow and dig in her bed. With this luxury bed, she is able to satisfy that digging instinct thanks to the hood.
We chose the medium size in this bed for Bella and she loves it; she is 23lbs. If you have a smaller Bostie, then you might want to opt for the smaller size, but keep in mind most Bostons prefer larger beds.
Before I move on to this luxury bed's top features, I must first mention how easy it is to clean it and Bella always has restful sleep. We simply toss the entire bed in the washing machine and it comes out nice and clean. No piling or changes in its shape.
Best Friends by Sheri's cozy cuddler bed is made using a soft, durable vegan fur interior and a sturdy-yet-cozy microfiber exterior.
Its Air-Loft fibers keep its loft up three times longer than most dog beds, it is still soft three years later (I can't remember exactly when we bought this but it was well before the COVID years as a point of reference). The walls of the bed are 7" high which helps support your dog's head and neck.
The bed's bottom is made with water and dirt-resistant fabric. It helps contain wet messes, urine, and slobber and prevents them from messing up your floor or carpet.
So, if my Boston Terrier likes it I think yours will too!
You can buy this bed here on Amazon or look at reviews by clicking here: Best Friends Cozy Cuddler Bed.
Pros
Made with pet-friendly materials – no skin irritation or allergies on sensitive dogs
Satisfies dog's digging instinct – and Bella hasn't ripped it yet
Supports better sleep– cozy hooded bed supports the dog's joints, head, and neck
All-year-round comfort – warm and cozy for winter yet breathable in summer.
Machine washable – toss the entire bed in the wash!
Cons
Not for chewers – aggressive chewers might easily rip through the bed. (Now that Bella is older she doesn't chew like she did as a younger Boston)
Check out my guide on Introducing Your Boston Terrier to a New Bed (Step by Step)
If you take your Boston out on trips or they tend to have accidents, this is a great bed to use. Its removable washable cover makes it easy to clean and you don't need to toss the entire bed in the washer/dryer.
We bought an extra cover for this bed with Bella so when one is in the wash, the other one is ready for use. And it worked out great.
Here are the bed's features:
The hypoallergenic, pet-friendly, and eco-friendly bed is made of an outer 100% polyester cover which resists water and dirt. Its plush and comfy cushioning lasts long and retains its shape.
The 300/600 denier base also easily withstands wear and lasts long. The entire bed is also stain resistant. It is also super lightweight, making it easy to travel with.
Once again my dog likes this bed and I think your Boston will too!
You can buy this bed here on Amazon or look at reviews by clicking here: Gray Trellis Dog Bed.
Pros
Machine Washable Cover – cover is easy to remove and drys quickly
Lightweight – almost like a water bed!
Tough and durable – great for chewers
Cons
Expensive – but totally worth it!
There are several reasons why the Furhaven quilted sofa-style dog bed has over 70,000 positive reviews (at the time of writing this guide)
The bed features a quilted outer surface with a medical-grade foam filling that keeps your dog ultra comfortable. The sofa-style bed comes with raised edges on three sides (bolsters) to support your Boston's head and neck.
Furhaven is also a popular name in pet brands- it has been around for several decades and is a name you can trust. We love the fact that they use recycled materials in these beds so they are doing their bit for the environment.
All their bed foams are 100% USA-manufactured and Certi-PUR US certified.
The materials used in this premium dog bed enhance airflow to keep your dog cool even in the warmer months.
You can buy this bed here on Amazon or look at reviews by clicking here: Furhaven Dog Bed Quilted Sofa.
Pros
High-quality, recycled materials – this orthopedic bed has medical-grade foam for joint support
All-year-round bed – Warm and comfy in winter and cool and breathable for summer.
Easy to clean- machine washable cover.
Cons
They don't have a non-slip bottom if that's an issue.
If your Boston has any joint-related issues, then this is the bed to go for.
Bedsure orthopedic bed's high-density egg-crate foam provides unparalleled support to aching joints and helps your dog sleep comfortably. The bed also distributes pressure evenly to reduce strain on your pet's bones.
Your dog will love the bed's 4-sided bolster design. It minimizes the risk of falling – especially if your Boston is in the habit of moving or flailing in its sleep. The bolsters also provide optimum support to your Boston's neck and head.
Bedsure orthopedic bed also has an ultra-soft flannel exterior. The inner part is CertiPUR-US certified foam which is hypoallergenic and pet-skin friendly. The bed also has a laminated velvet cover to keep water and stains minimum.
You can buy this bed here on Amazon or look at reviews by clicking here: BedSure Orthopedic Dog Bed.
Pros
Maximum comfort and support – Several features are designed for senior dogs or dogs with joint problems.
Easy to wash – Machine washable cover can be tossed in the washer-dryer.
Non-skid – the base has anti-skid rubber studs to keep the bed from slipping on any kind of flooring.
Cons
Not too durable – stitching came off on some beds, after a couple of washes.
Size issues – not for very large dogs – the bed flattens under their weight.
You NEED this if you crate your Boston Terrier. If you put your Boston in a kennel as we do with Bella you must have a crate bed for them to lay on and the MidWest Deluxe Dog Bed is perfect for the occasion.
Of course, you can also use this bed as a standalone bed. It is available in various sizes and can help create a buffer around your dog and the crate's wires, but this has worked well for us.
NOTE: We did not start adding a bed to Bella's crate until around two years old. As a young Boston, she would have destroyed this bed while we were away for the day lol
You can buy this bed here on Amazon or look at reviews by clicking here: MidWest Homes Deluxe Dog Beds.
Pros
Plush and soft – like cashmere!
Machine Washable – throw the whole thing into the washer and dryer
Durable – survives washes and light chewing!
Cons
Not anti-skid – despite their anti-skid rubber studs, the bed tends to shift on hardwood floors.
Best Friends By Sheri's calming donut bed is perfect for Bostons who suffer from anxiety. The highly rated bed has more than 60,000 positive reviews (at the time of writing this guide) due to its following features:
The round donut shape bed is ideal for comforting dogs with stress and anxiety. The round shape surrounds your Boston's body from all sides and is reminiscent of puppy love with mommy. The bed's raised walls also provide optimum support to your Boston's neck and head.
Moreover, the super-soft outer cover keeps your dog warm and cozy and promotes healthy sleeping habits. Best Friends By Sheri uses premium Cozi-Loft™ fibers which remain plush and retain their shape. The super-soft filling is also easier on the joints of senior dogs.
Made with durable nylon and faux fur, the bed also washes easily. Best Friends by Sheri donut beds are also available in a variety of colors and sizes.
You can buy this bed here on Amazon or look at reviews by clicking here: Best Friends by Sheri Calming Donut Bed.
Pros
Ultra-comfortable – several design features make this one of the most comfortable dog beds.
Easy to clean – machine wash cover; simply unzip the cover and throw it it.
Pet-safe materials – skin-friendly and hypoallergenic. Extensively tested by Consumer Products Safety Commission consumer labs.
Cons
The middle of the bed is flat – needs more cushioning.
If you want to buy multiple beds on a budget, then the BEDSURE beds are a pocket-friendly choice. Despite their low price, these beds are still 20% plusher than other dog beds.
The round donut shape is also calming for anxious dogs. Moreover, their raised edges make it perfect for dogs to rest their necks and heads on them. The bed's 8-inch thickness provides a sense of security and offers adequate cushioning for dogs with achy joints.
You can buy this bed here on Amazon or look at reviews by clicking here: Bedsure Calming Dog Bed.
Pros
Affordable bed – without compromise on the quality
Soothing, calming, and comfortable – round shape with plush materials are reminiscent of mother dog's fur
Pet safe – Tested by Consumer Product Safety Commission. No flame retardants and skin irritants.
Fully machine washable
Non-slip bottom – allows your dog to easily get in and out of the bed.
Cons
The bed sometimes comes misshapen due to vacuum-packing and takes a few days to regain its shape.
Most dogs sleep on the cold floor when the weather gets warmer. Why not get them this highly-breathable raised bed from Coolaroo, instead?
The bed improves airflow from all sides keeping your Boston cool and comfortable making this the best cooling dog bed. It is also easy to transport and can be used outdoors.
The bed is easy on your dog's joints thanks to the fabric's flexibility. This makes it great for senior Bostons as well as dogs with joint-related problems.
You can buy this bed here on Amazon or look at reviews by clicking here: Coolaroo Elevated Dog Bed.
Pros
Easy to clean – you can wash the bed or wipe it with a damp cloth
Durable and sturdy – chew-proof high-density polyethylene fabric.
Versatile – indoor/outdoor use. Also great for older dogs with joint issues.
Cons
Difficult to assemble – time-consuming assembly.
Some dogs might find the fabric rough, especially if they are used to sleeping on softer beds.
Heated dog beds are ideal for those bitter cold nights and could also benefit dogs with joint pain and aches like my Bella.
This dog bed from K& H Pet Products comes with a thermostat that auto-regulates the bed's temperature and keeps your Boston comfortably warm without overheating. The cord for the bed comes with a steel cover to prevent naughty dogs from chewing it.
K&H heated dog bed consists of a therapeutic foam and a removable, machine wash fleece cover. It is lightweight and can be carried easily if you want to use it on the patio or deck – or when you go camping.
You can buy this bed here on Amazon or look at reviews by clicking here: K&H Heated Dog Bed.
Pros
Therapeutic – beneficial for dogs with health issues.
Safe – has several safety features like a thermostat and chew-proof materials and cord.
Flexible – fits in any space indoors or outdoors. Can also be used inside a dog crate.
Optimum temperature – does not overheat
Cons
The cover is flimsy.
No temperature control – you have to unplug it to turn it off.
I personally wouldn't give it to a puppy or a young Boston…better for older dogs.
What to avoid when it comes to getting a bed for your Boston Terrier
Here are some things you are going to want to avoid or be cautious about when you have either a brand new Boston Terrier puppy or basically a Boston under the age of two.
Avoid beds that are filled with stuffing. If you do get one just know you may need to restuff it with your little Boston's sharp teeth.
Avoid beds that are not easy to clean. Your Boston will make a mess on their bed! You want a bed that is easy to clean, as easy as throwing it in the washer and dryer.
Avoid being fixated on one type of bed. Try out different beds to see which bed your Boston likes the most. At any given time Bella has two to three beds around the house. You can always return the bed if they don't like it. And if returning it is not an option simply sell it on Facebook marketplace…we sold one of Bella's beds that was easily four years old but in great condition for $5.00.
What Kind of Bed Does a Boston Terrier Need?
You can choose a dog bed for your Boston based on several factors. Here are four to consider.
1. Based on Age
Boston Terrier puppies usually do best with round, oval, or donut-shaped beds. This shape reminds them of their dam's womb. It helps if the bed is covered with a plush material that resembles the mother's fur. NOTE: Boston puppies are chewers!!! The bed must be durable and expect to replace their first bed.
On the other hand, senior Bostons and Bostons with orthopedic issues or joint aches might prefer beds having memory foam. They distribute the pressure evenly on the joints to reduce stress, aches, and pains.
2. Based on the Weather
Plush and cozy fleece-filled beds are preferred for cold areas. Elevated beds are better suited for summers to allow airflow from all sides.
Most Bostons like to keep their paws warm in winter and beds with crevices and hoodies or blankets allow them to insert their paws inside to keep them warm.
There are some beds which can be used all year round. They are warm in winter but also allow breathability and airflow in summer. The bed Best Friends by Sherri is the bed we use for Bella all year long.
3. Based on Your Boston's Habits / Personality
If your Boston has separation anxiety, then a donut-shaped calming bed can help. These beds allow your pet to 'sink' into them creating a safe and secure sleeping space.
Most Bostons are diggers, so a hooded bed like the Best Friends by Sheri Cozy Cuddler Bed is ideal. It helps them create a 'den-like' snug and cozy space to rest.
Chewers need beds that are made with durable, HDPE or ballistic nylon material. The beds should not have any zips or buttons that could pose choking hazards to your dog.
Related article: Boston Terrier Separation Anxiety – Guide and Remedies
4. Based on Your Boston's Favorite Sleeping Position
You can also choose your Boston's bed based on its favorite sleeping position:
Sprawled position – If your Boston is a sprawler, then it probably stretches on the bed in all directions. It is best to get a large bed with a large sleeping surface for such dogs. In warmer weather, you can get an elevated bed that allows your dog to sprawl on its back or sides and expose its belly to the cool air.
Curled up in a ball – Most Bostons sleep curled up like a ball in cold weather. Round, donut, or oval-shaped beds are the best for such dogs.
Support for the head – Some Bostons like to support their head and neck with an elevated pillow and a bolster bed or sofa-style bed is ideal for them.
What Size Bed Should You Get for Your Boston Terrier?
Boston Terriers love large dog beds. In a survey done on the Boston Terrier Society's YouTube community, Boston lovers were asked, "What size of bed does your Boston Terrier prefer?" 44% out of 287 votes said their Boston prefers large beds. See the survey in the image below.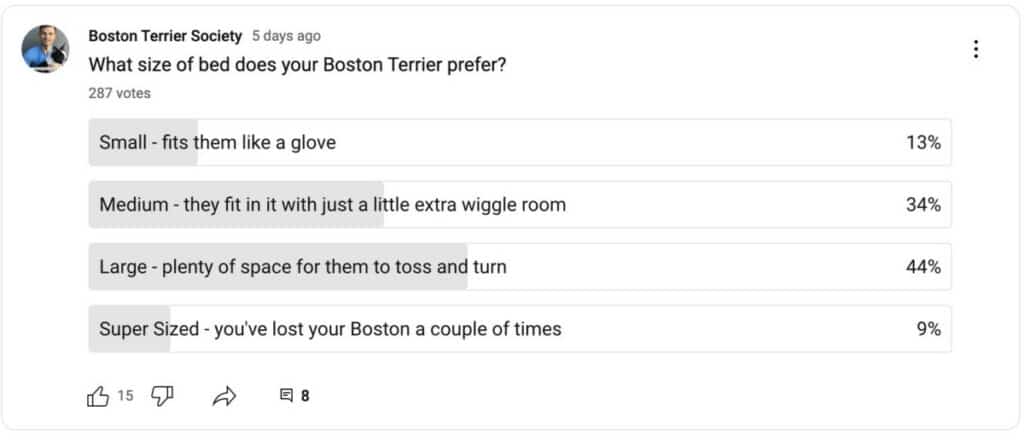 Other Things To Consider About The Size Of The Dog Bed
Most Boston Terriers fall in the small-to-medium dog breed category. They are compact dogs and measure about 16-17 inches in height at the withers with a similar length (measured from the nose to the tips of their tails). Bostons will weigh between 15 to 25 lb.
For dogs this size, you could get a medium to a large bed. Many Bostons prefer slightly larger beds because they need that extra room to move about, stretch, and change positions.
At the same time, the bed should not be so large that it increases drafts and makes your dog feel cold.
So, before buying the dog bed, please measure your Boston using the following steps:
Use a tape measure.
Have your furry friend stand up.
Measure your Boston from the tip of its nose to the base of its tail.
Also, measure it from shoulder to shoulder at the widest part.
Add 6 to 12 inches to both of these measurements and select a bed that comes with these or similar dimensions.
If your Boston is between sizes, buy the larger bed.
Also, consider your pet's weight as many bed manufacturers size their beds according to weight.
Do Boston Terriers Like to Sleep Under Covers?
Yes, nearly 90% of Boston Terriers love to sleep under covers.
I created a poll on the Boston Terrier Society Twitter community to determine the answer to this question – Does your Boston love to sleep under covers? The results were not a surprise at all lol
Out of 156 votes, 90% of Boston parents report their Boston loves sleeping under the covers.
This is something to consider when picking a bed out for your Boston. This is why we have a dog bed with a hood for Bella it's her cuddly bed.
Do Boston Terriers Prefer Round or Square Beds?
A majority of Boston Terriers prefer round beds over square beds.
I created a poll on Twitter to find out the answer to the question – Does your Boston prefer circular or square beds? Out of 82 votes, nearly 60% of Boston parents reported their Bostie prefers round beds.
This is something to consider when picking a bed out for your Boston.
Video – In this video, I show you the beds Bella has!
Here is a video where I walk you threw the beds Bella is currently using or has used.
Final Thoughts – Best Dog Beds For Boston Terriers
Your Boston Terrier spends an average of 12-14 hours a day sleeping, and you want them to have good sleep!
A comfortable bed can help your Boston sleep better so she can function better, behave better, have better metabolism, immunity, and digestion, and retain all that she has learned.
I highly recommend the Best Friends by Sheri Cozy Cuddler Bed which is very soft, and comfortable, comes with snug cushioning, and thick walls, and is ideal for diggers. It creates a cozy, womb-like space giving them more restful sleep!
Do check out our other top recommendations: